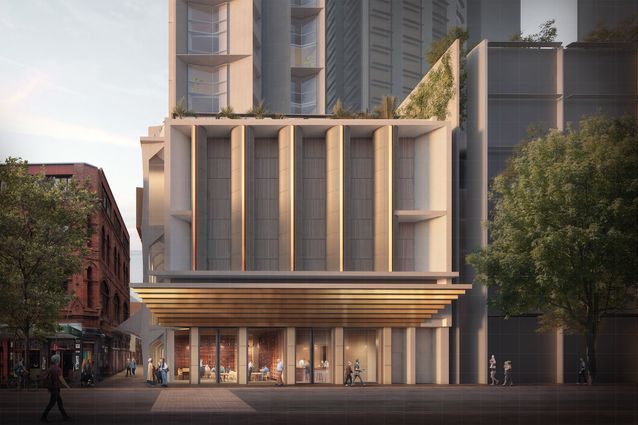 Sydney tower project with a sense of "rest"
Candalepas and associates won a design excellence competition for a 'slim and stylish' hotel and apartment tower in central Sydney.
Located at 525 George Street, the tower will include 292 hotel rooms, a gymnasium, an outdoor swimming pool and 115 residential apartments. It will replace the historic cinema that has occupied the site since 1903.
The proposal includes a six-story podium that will house a cinema, hotel lobby, conference rooms, restaurant and retail outlets.
"The proposal is based on a building form with elegant vertical proportions, contextual linkages as well as a number of pleasing aesthetic offerings including atrium voids and striking public street entrances," the authors said. architects in a design statement.
"The tower, with its dominant vertical proportions, creates an elegant shape on the city skyline. The form of the podium establishes a strong and articulate contextual link with its adjacent neighbours.
"The palette of materials […] is formulated around sustainable and natural materials. This is seen as a complement to the adjacent masonry heritage buildings and speaks to more enduring and substantial human values.
Candalepas Associates created a first-stage conceptual design for the project, and following its approval, the developer held a three-way guest competition with the firm along with two others: Andrew Burges Architects and John Wardle Architects.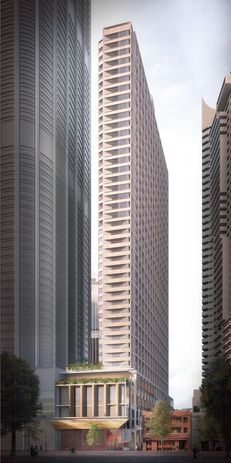 The competition's selection panel concluded that the Candalepas Associates program "had the ambition to create a sense of 'rest' that was powerfully and appropriately rendered in the reading of the tower as a subtle and elegant presence on the city ​​skyline", the Competitive Design Alternatives report. bed.
"The tower demonstrated a sophisticated reading of the multiple constraints at play and resolved them in such a way as to liberate the architectural form.
"The selection committee found the tower component of this program to be the most resolute of the entries and the program's greatest strength."
A development application for Stage 2 assessment has been submitted to the City of Sydney.