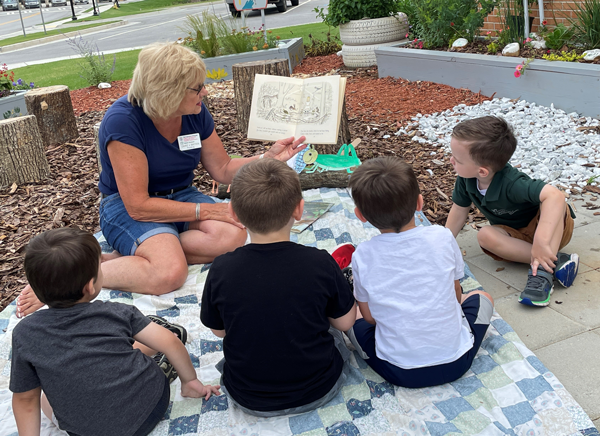 Sensory Garden Added to Paulding UGA Extension Dallas Offices
Sensory Garden Added to Paulding UGA Extension Dallas Offices
Paulding County UGA Extension introduced its new sensory garden program in Dallas. But what is a "sensory garden" and what is it for?
A sensory garden is a garden environment designed to stimulate the senses. This stimulation occurs through plants and the use of materials that engage the senses of sight, smell, touch, taste and hearing.
A video presentation shown during the Council of Commissioners' working session last week gave some details on the programme.
According to Christen Thomas, coordinator of the Master Gardner program and featured in the video presentation, the garden is for young people, but adults can enjoy it too.
"The Sensory Garden is designed to target the early elementary levels. It engages the five senses and enhances the things they learn early. So it was a class project. We had 11 people complete the Master Gardeners program in 2021," Thomas said.
Sensory gardens provide intimate spaces where young children can be immersed in the scents, textures and colors of plants and related elements. Along with specially selected plants, sensory gardens can also include items such as wind chimes, windsocks, flags and children's artwork. Two popular forms of sensory gardens are sensory paths and keyhole gardens.
Master Gardner Bruce Deppen participated in the project and commented on the video presentation.
"Excellent experience in terms of coordinating volunteers," said Deppen. "I'm glad Christen pointed us in the direction of having this sensory garden to use as an educational tool for the extension office and for local schools and for anyone who just wants to get out and have a look. eye", he said.
These types of gardens are popular and beneficial for children and adults, as well as those with sensory processing issues, including autism and other disabilities.
The Sensory Garden is located at the UGA Paulding Extension Offices located at 530 West Memorial Drive. For more information, visit the County Extension website at extension.uga.edu/county-offices/paulding.