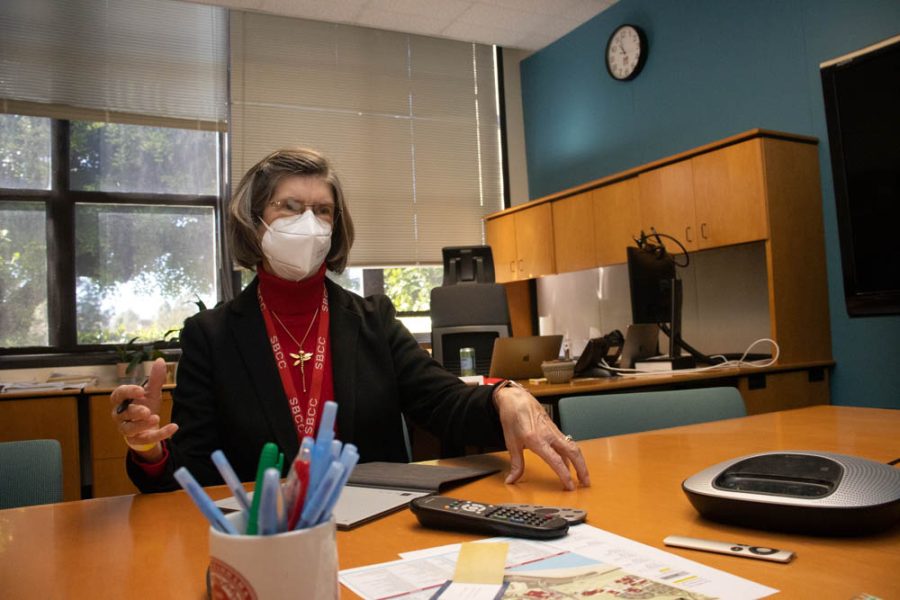 SBCC chairman Murillo sets new goals after contract extension – The Channels
Acting President Superintendent Kindred Murillo announced that her contract had been extended for an additional two years and said she would continue to ensure the college's full affirmation.
Dressed in City College colors, Murillo walks away from her desk to discuss the accomplishments of her last term and her planned goals for the coming years as permanent president.
"I really want to help refocus City College on two key things, student-centric and equity-focused. If you do it right, you create a place for students to call home," Murillo said.
His collaborative leadership style changed the college's approach to collective hiring. She began by presenting workshops on equity and training implementations for teachers.
"We started our first workshop the other day for diversity and faculty hiring. We are hiring ten new teachers this spring and hopefully that will change by now screening people rather than excluding them," she said.
Murilo said one of his goals is to have an inclusive campus, and increasing diversity within the faculty is part of that.
"You want to make sure that you let students see that there are people like them in high positions and in the faculty ranks. I think that really sends the message that you can do it. When I was growing up, women weren't managers or anything. We never grew up thinking we could do that. I never thought I could be a leader. So, we want to give our students a role model like that," the acting presiding superintendent said.
The common question is always about change, but Murillo said she finds consistency just as important to ensure smooth transitions between the different terms.
"As president, you can come in and change things, but is that really fair to students and faculty? If we change things every time there's a new president, why not have really clear systems," she said.
In four different college districts, Murillo has created and updated systems to ensure they are working effectively and achieving equality goals.
The acting presiding superintendent said another goal for this year is to ensure a systematic process at City College.
"I'm trying to make sure that when I leave the college will be able to continue the work that we're doing now. So we can't just let diversity, equity and inclusion efforts fade away. It has to be cooked," she said.
When asked where she would like to see the city college in five years, Murillo replied, "I would like to see that the college has made significant progress in hiring diversity within the faculty ranks and senior executives. Our middle management is relatively diversified at the moment, the executive level is not. I firmly believe that our role is to ensure that this happens. It takes time and that's why I agreed to stay for two years.
During this extension, Murillo additionally plans to determine whether the college can apply for a general obligation bond, revitalize the education master plan, and inquire about an accessibility plan for students with disabilities to to have equal accessibility on campus.
"Five years from now, I want to say, 'Wow, this really is a student-centered, equity-focused college. I want our students to know that we are here for them and for their goals. That's who we are," Murillo said.