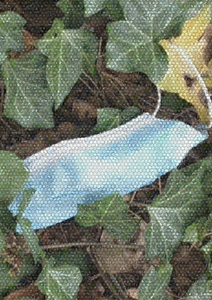 Researchers unmask environmental impacts
A new study has found that face mask waste increased 9,000% from March to October 2020. This shows a direct link between national legislation and the occurrence of discarded waste which included face masks and others. personal protective equipment related to COVID-19.
Researchers at the University of Portsmouth are urging governments to put in place policies and legislation to eliminate littered face masks by making them mandatory.
The study, published today in the journal Sustainability of nature, was based on the results of two open source databases:Monitoring of COVID-19 government responses"And a waste collection app called"Literati".
More than two million litter has been collected in 11 * countries, which have between them a range of COVID-19 policy responses. Using these databases, the researchers were able to map countries' policy responses (severity of the lockdown, mask policies) and obtain a baseline of the proportions of waste from September 2019 to the first six months of the pandemic.
Principal investigator Dr Keiron Roberts, Senior Lecturer in Sustainability and the Built Environment at the University of Portsmouth, said: "Overall the study shows the impact that legislation on the use of items such as masks can have on their health. appearing as rubbish. We found that littered masks had an exponential increase from March 2020, resulting in an 84-fold increase by October 2020. There is a clear need to ensure that the requirement to use these items is accompanied by campaigns to education to limit their release into the environment. . "
Explaining the background to the research, Dr Roberts said: "The negative impacts of COVID-19 on our daily lives are well known. By April 2020, it was starting to appear that there were a few small bright spots in the decrease in human activity caused by the lockdown, with improvements in air quality and water quality. The reduction in human activity has also resulted in the return of animals to cities. At the same time, reports of masks and gloves appearing on beaches and streets, where they had never been before, began to emerge. As COVID-19 spread, reports of this new type of litter also spread. National closures made it incredibly difficult to go out and visit these places to gather evidence of what were anecdotal accounts. "
After struggling to collect data in the field, researchers turned to online databases. Dr Roberts said: "This data has allowed us to look at trends in COVID-19 litter on a monthly basis. We then compared the WHO announcements and national policy and lockdown restrictions to see how that impacted the proportions of waste. It was not a surprise to see mask waste appear, but what surprised us was the dramatic impact of national legislation on the appearance of mask waste. "
The following trends have emerged:
January March. As countries struggled for adequate PPE, the directive was to distance themselves socially / physically from each other.
March May. The most severe blockages occurred during this time and as such mask litter was low but increasing.
June – October. The WHO has recommended the use of masks to facilitate social interactions. This followed the relaxation of many containment measures, and therefore an increase in people's freedoms. Mask waste has increased dramatically during these months.
Professor Steve Fletcher, Director of Plastics Revolution at the University of Portsmouth, said: 'Although millions of people have been told to use face masks, little advice has been given on how to safely dispose of or recycle them. Without better disposal practices, an environmental disaster looms. The majority of masks are made from durable plastic materials and, if discarded, can linger in the environment for decades to hundreds of years. This means that they can have a number of impacts on the environment and on people.
Almost all waste is preventable, but often the impact only seems to be visual. Litter has multiple direct impacts on the world around us:
– Short term Litter acts as a potential viral vector to transmit COVID-19. If they do get into sewers, they can cause potential blockages where they get tangled with other objects such as leaves.
– Middle term For large animals, they can get tangled and suffocate them, and if eaten, they can cause complications. Places where litter lands can suffocate small organisms and plant life.
– Long term Once in the environment, litter can continue to have the impacts mentioned above, in addition to becoming a transmission route for other pollutants. If they are made from plastic, they will eventually become microplastics and have the potential to enter the food chain.
Dr Roberts concludes: "We must prevent this pandemic waste from becoming a lasting legacy. There are two important messages to take from this study. First, COVID-19 has been a major driver of the emergence of mask waste and second, government policies and legislation can have a significant impact on the composition of the waste. New policies should have well-structured guidance and most importantly an infrastructure to help eliminate waste.
"As nations use masks to promote social interactions, they must promote the safe disposal of this litter, and while they are there, all other litter too. "
Ends
Notes for Editors:
* The 11 countries were France, Germany, Belgium, the Netherlands, Spain, United Kingdom, Sweden, United States, Canada, Australia and New Zealand.
An embargoed copy of the document is available on request.
The University of Portsmouth recently launched its World Center for Plastics Policy at the COP26 Climate Conference in Glasgow to help find sustainable solutions to tackle plastic pollution around the world.

Designed to give governments and industry groups the evidence they need to make better decisions about plastic policies, university researchers believe this unique resource will ultimately help reduce the negative impacts of plastics. The Global Plastics Policy Center is the latest significant development of the Plastic Revolutions initiative, which puts the University of Portsmouth at the forefront of the plastics debate.

The Center will bring an evidence-based approach to plastics policy making. A framework has been developed to assess individual policies that are scored against criteria and supported by evidence. This center is the first of its kind and the team believes it will generate real change.

The University of Portsmouth is a progressive and dynamic university with an exceptional reputation for innovative teaching and research and innovation of global significance.

It was rated "Gold" in the UK Government's Teaching Excellence Framework (TEF) and was ranked among the top 150 in the world under the age of 50 according to the Times Higher Education ranking.

The University's research and innovation culture has an impact on the lives of today and tomorrow and addresses local, national and global challenges in the fields of science, technology, humanities, business and creative industries. http://www.port.ac.uk/
The full list of authors and their affiliations for this article is as follows:
Keiron P. Roberts: University of Portsmouth, University of Portsmouth
Sui C. Phang: University of Portsmouth, The Nature Conservancy
John B. Williams: University of Portsmouth
David J. Hutchinson: University of Portsmouth
Simon E. Kolstoe: University of Portsmouth
Jasper de Bie: Griffith University
Ian D. Williams: University of Southampton
Anne M. Stringfellow: University of Southampton
For more information:
Emma Gaisford, Media Officer, University of Portsmouth, tel. : 07889 504483, e-mail: [email protected]
---
Newspaper
Sustainability of nature
Research method
Observational study
The title of the article
Increased range of masks, gloves and wipes due to COVID measures
Publication date of the article
9-Dec-2021
Warning: AAAS and EurekAlert! are not responsible for the accuracy of any press releases posted on EurekAlert! by contributing institutions or for the use of any information via the EurekAlert system.