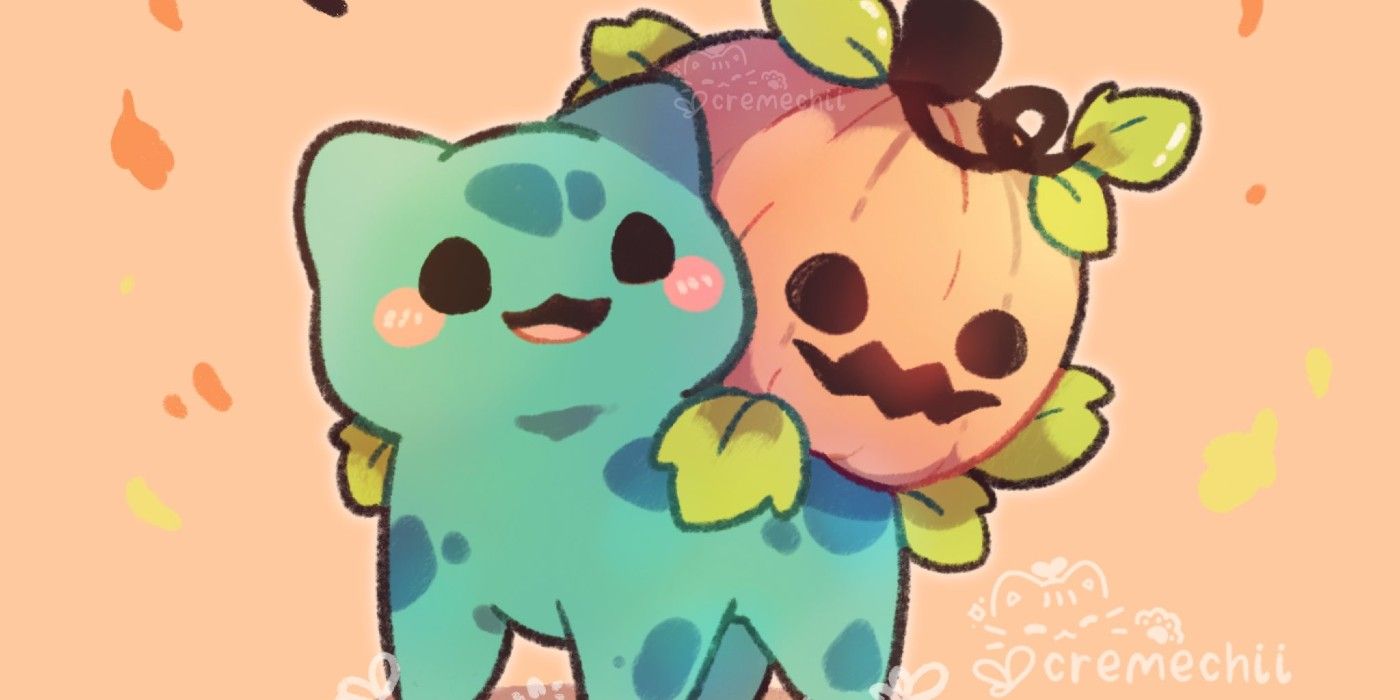 Pokémon Fan Art Replaces Bulbasaur's Back Light Bulb With A Jack-O'-Lantern
A Twitter user uploads his fan art of the beloved Bulbasaur getting into the Halloween spirit with a large Jack-O'-Lantern on his back.
A Twitter user created adorable fan art of Pokemon character, Bulbasaur, with a Jack-O'-Lantern on his back. While Bulbasaur can usually be found with a plant bulb, fan art sees it getting into the spirit of the Halloween season with a pumpkin instead.
Bulbasaur is a founding father of the Pokemon universe, being a Generation I creature and the first discoverable fighter in the Pokedex. A beloved character in both the anime and the games, Bulbasaur is featured in virtually everything Pokemon-related, including the hugely popular mobile game. He is a grass Pokemon who specializes in poison attacks, ultimately evolving into equally recognizable Ivysaur and Venusaur. Bulbasaur is also a favorite when it comes to fan art, with artists from all over the world pointing out his cute ferocity.
Related: Every October Field Research Tasks (& Rewards) In Pokémon GO
Twitter user and artist cremechii uploaded two really cute renderings of Bulbasaur with a Jack-O'-Lantern astride his back. On the left, a nocturnal theme, showing the Bulbasaur preparing for battle, and on the right, a relaxed fall portrait of the younger Saur and his fellow pumpkin having fun. The post garnered thousands of likes, prompting cremechii to make the designs available on their Patreon as a wallpaper. The wallpaper format also includes a third version, where a battle-ready Bulbasaur shines through the darkness thanks to the glow of its Jack-O'-Lantern. While art is a popular way for followers to show their love for Pokemon, there are many ways for fans to honor the franchise.
What Bulbasaur fan art has in common is that its main features are kept intact. cremechii breaks the mold by not only adding a Jack-O'-Lantern to Bulbasaur's silhouette, but removing the bulb from the plant completely in the process. Some might consider the artistic style of cremechii to be chibi, which is rooted in the manga and characterized by exaggerated proportions. It can be adopted by kawaii fan art communities as well, as the cremechii style is abundant in cuteness. A hallmark of cremechii is to highlight large blushes on the cheeks of the characters. They also specialize in Genshin Kitties, inspired by another title with a strong community, Genshin Impact.
Pokemon was introduced to the world in 1996 and has since counted over 900 species. Many video games are bestsellers, and anime is a staple in many childhoods. The global fan base has connected over the years through collectible cards, tournaments and the mobile phenomenon, Pokémon Go. Now, with the recent celebration of its 25th anniversary, fans will be able to revel in a musical tribute from Pokémon 25: the album.
Next: Pokémon GO: Halloween Mischief Event Guide
Source: cremechii / Twitter
Every Batman: Arkham reference in Suicide Squad: Kill The Justice League's Trailers