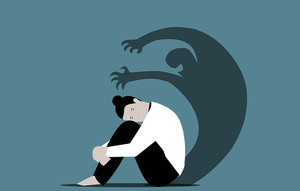 Physicians' emotional labor increases in proportion to their interactions with patients
A recent study showed that the more interactions physicians have with patients, the greater their emotional labor.
Kim Jin-sook, a researcher at the Korea Medical Association's (KMA) Medical Policy Research Institute, made this and other points in "A study on the emotional work of Korean doctors", published in the Journal of the Korean Medical Association.
Kim used emotional labor data as part of the 2020 National Medical Survey conducted by her research institute from November 19, 2020 to January 10, 2021. Of the doctors who responded to the survey, she targeted 5,563 doctors with treatment experiences. .
Kim defined physician emotional labor as "the act of controlling one's emotions when interacting with others (patients, clients, and colleagues) during medical work in the medical field (treatment, medical work except for treatment, administration, research and others). She also reviewed some of the tools for measuring the emotional labor of nurses and used them for the analysis since few studies had measured the emotional labor of doctors in Korea.
Of the 5,563 study subjects, 76.5% were male and 23.5% were female. By job category, 38.5% were salaried workers, 24.3% were practicing physicians, and 13.9% were teachers. By place of work, 33.8% worked in neighborhood clinics, 22.0% in general tertiary hospitals, 19.7% in general hospitals and 9.3% in hospitals.
By treatment department, internal medicine accounted for the largest share at 23.0%, followed by orthopedics (5.8%), general medicine (5.3%), pediatrics and adolescents ( 5.1%), dermatology (5.1%), neuropsychiatry (4.4%), surgery (4.2%) and obstetrics (3.9%).
As a result of the study, the average level of emotional labor of doctors was 70.03 points, which shows a very high level of emotional labor. The level of emotional labor was particularly high among specialists and practicing physicians who interacted extensively with patients.
The emotional labor level of specialists was the highest with 71.48 points, followed by practicing physicians with 70.70, military surgeons (70.52) and salaried employees (69.90). Those who showed the lowest level of emotional labor were teachers, with 69.32 points.
By institution, doctors working in neighborhood clinics had the highest degree of emotional labor with 70.92 points, followed by military hospitals with 70.58, medical schools with 70.27, and general hospitals with 70.27. with 70.25.
Per service, the psychiatrist showed the highest degree of emotional work with 75.77 points. Next come rehabilitation medicine with 73.31, pediatrics and adolescence (72.26) and dermatology (72.12). Finally, doctors in the emergency medicine department have the lowest level, with 66.70 points.
In the emergency medicine department, patients are often in the emergency room, so there is relatively little interaction with doctors compared to other departments, Kim said.
Kim said devices were needed to ease the emotional work of doctors.
"Doctors should be included within the applicable scope of the Occupational Safety and Health Act, a legal system aimed at protecting emotional workers. Although practicing doctors are not subject to the law, at least salaried doctors should be included in the law's target," Kim said. "In addition, it is necessary to take measures for the emotional management of work in medical institutions, such as designating a compulsory leave system, providing regular counseling programs with psychiatrists."
The KMA researcher acknowledged that the study has limitations, as it reviewed and used nurses' emotional labor measurement tools and stopped short of identifying elements influencing emotional labor.
Still, the study is significant because it was the first in Korea to measure and analyze the current level of emotional labor among Korean doctors," Kim said.