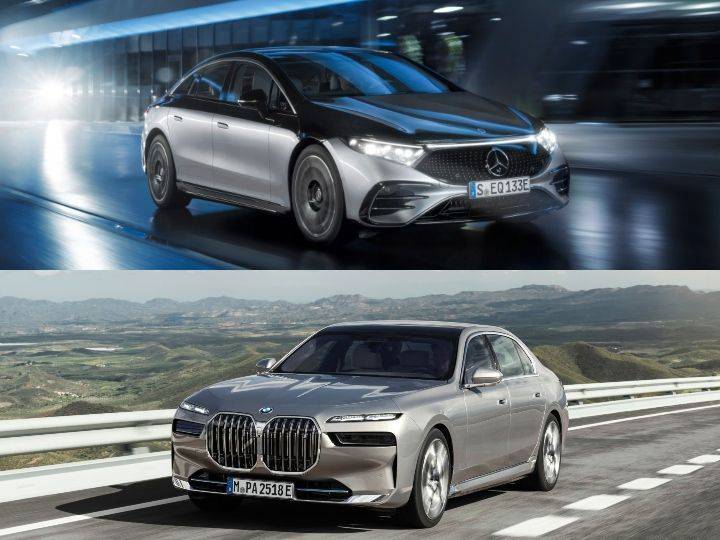 Mercedes-Benz EQS vs BMW i7: powertrains, battery, performance, dimensions and range compared
It finally happened. Electric vehicles have been developed to a point where we now have electric equivalents of flagship sedans from Mercedes-Benz and BMW. For the former, it's the EQS, which is the S-Class of electric vehicles, while the latter recently unveiled the electric equivalent of the 7 Series, the i7. The question is, which of these two German titans will come out on top in the EV benchmarks? Let's find out:
Dimensions
| | | |
| --- | --- | --- |
| Dimensions (mm) | Mercedes-Benz EQS | BMWi7 |
| Length | 5216mm | 5391mm |
| Width | 1926mm | 1950mm |
| Height | 1512mm | 1544mm |
| Wheelbase | 3210mm | 3215mm |

In this department, the BMW i7 trumps the Mercedes-Benz EQS in every way imaginable, especially in length. But the differences are much closer in height and especially in wheelbase since the two electric sedans are very close. When it comes to styling, both sedans have their own direction, with the EQS opting for a super smooth and simplistic ethos. The i7, on the other hand, is pretty radical, which, let's face it, is dividing opinion everywhere.
Powertrains
| | | |
| --- | --- | --- |
| Features | Mercedes-Benz EQS 580 4MATIC | BMW i7 xDrive60 |
| Transmission | Dual Motor AWD | Dual Motor All-Wheel Drive |
| Power (PS) | 523PS | 544PS |
| Torque (Nm) | 855Nm | 745Nm |
| Battery capacity | 107.8kWh | 101.7 kWh |
| Range (claimed WLTP) | 676km | 590-625km |
| sprint from 0 to 100 km/h | 4.3 seconds | 4.7 seconds |
| Top speed | 210 km/h | 240 km/h |
| DC load capacity | Up to 200kW | Up to 195kW |
| DC charging time (10-80%) | 31 minutes | 34 minutes |

Things are getting very interesting for the two flagship electric sedans. While the i7's twin-motor all-wheel-drive powertrain produces 21bhp more than the EQS, the latter has 110Nm more torque. Also, the extra grunt of the i7 doesn't translate to off-line performance as the EQS is four tenths faster, but the i7 has a higher electronically limited top speed.

As for what powers those electric motors, the EQS takes the upper hand here, with the larger battery, which translates to longer range. It's also able to handle slightly more kilowatts on fast charge, which also translates to a faster charge time than the i7. In fact, its 450+ version offers a lot more range at 780km, but that comes at the cost of losing all-wheel drive and settling for a less powerful single-motor RWD 334PS electric motor.
Performance Trims
| | | |
| --- | --- | --- |
| Features | Mercedes-AMG EQS 53 4MATIC+ | BMW i7 M70 xDrive |
| Transmission | Dual Motor AWD | Dual Motor All-Wheel Drive |
| Power (PS) | 761PS | 600PS+ |
| Torque (Nm) | 1020Nm | 1000NM |
| sprint from 0 to 100 km/h | 3.4 seconds | |

Of course, we still have to wait until 2023 for BMW to release the spiciest i7 M70 xDrive variant, but the Bavarian automaker has given enough powertrain details to draw a comparison with the 53 AMG EQS. But it's still a bit behind in all departments.

So on paper, the Mercedes-Benz EQS and BMW i7 have their own pros and cons. The i7 gains in size and gets a more powerful powertrain in standard configuration. But it's the EQS that has the upper hand in what matters most to EVs, its range and charging capabilities.
Although there is no word yet on when BMW will bring the i7 to India, it will likely happen in 2023 at prices probably starting from Rs 2.5 crore (ex-showroom). What we do know is that Mercedes-Benz is expected to bring the EQS to India later this year and will be the automaker's first locally manufactured electric vehicle.