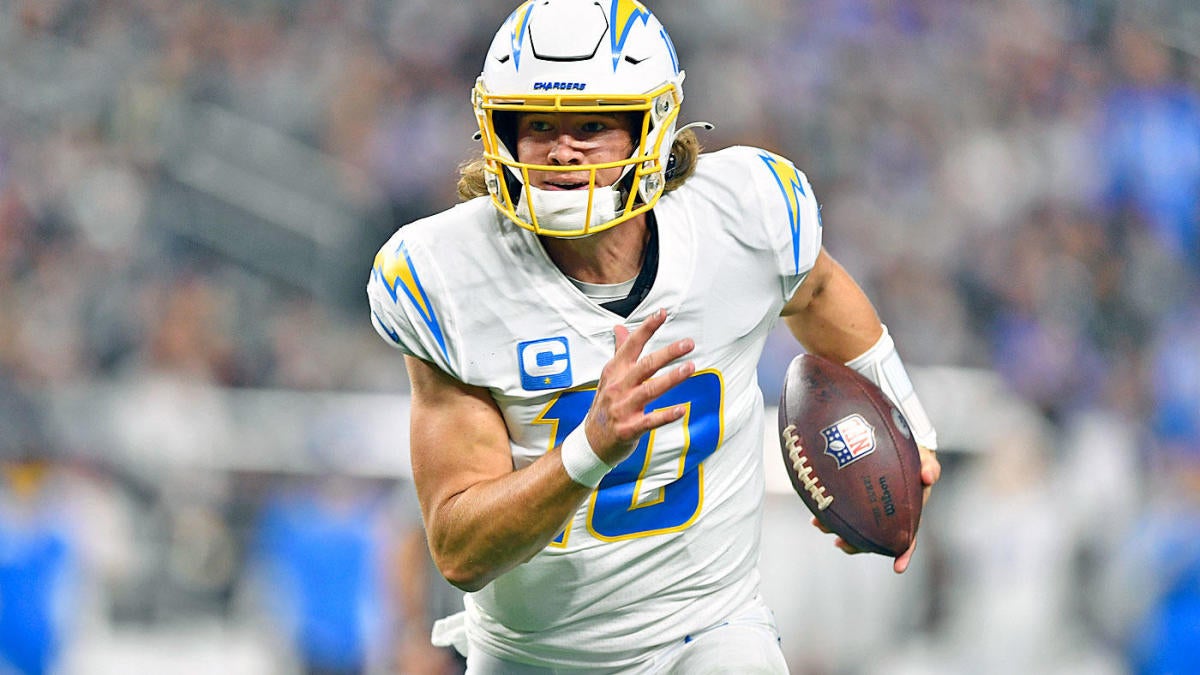 Justin Herbert discusses contract extension, contribution to Chargers organization, off-season work and more
Justin Herbert is off to the best start of any quarterback in NFL history, rewriting the league record books after just two seasons in the league. Herbert has the most completions (839) and passing yards (9,350) in the first two seasons of a career in league history, while being the first quarterback to throw more than 30 touchdown passes in each of his first two seasons.
Herbert's 2021 season was one of the best for a sophomore quarterback in NFL history. He completed 65.9% of his passes for 5,014 yards with 38 touchdowns on 15 interceptions for a passer rating of 97.9 – becoming only the third player to throw for at least 5,000 yards in a season during the one of his first two years (Patrick Mahomes and Dan Marin are the others).
What Herbert accomplished early in his career made him one of the NFL's youngest superstars. Having become one of the faces of the league, Herbert is the newest member of the NFT company co-founded by Tom Brady, Autograph, to launch its collection which will promote young superstar athletes. 'The Future Is' collection features Herbert, PGA Champion Collin Morikawa, WNBA star Sabrina Ionescu, tennis star Coco Gauff and NBA star Devin Booker in a series of NFTs for fans to purchase on the Autograph website. Herbert's collection in the series drops next Tuesday.
In an exclusive interview with CBS Sports, Herbert discussed the Los Angeles Chargers' stellar offseason and also talked about his role within the Chargers organization, contract extension talks and improvements he's making. to his game for this season and beyond.
When we last spoke, AFC West lacked Russell Wilson and Davante Adams. You know all the other moves the division has made over the past few months. What was your reaction when the division got even better?
Herbert: "It's tough, but I think it's a great opportunity for us to go play the best. The Chiefs got better, the Raiders got better and the Denver Broncos got better – and that's exactly whatever you want.We believe we can play really good football and it's up to us to go out and run.
"At the end of the day, if you want to be the best, you have to beat the best. These guys have certainly proven that over the last two years. It's going to be a fun division to be in."
The Chargers managed to keep Mike Williams in the fold for you. How has it helped your development over the past two years?
Herbert: "Mike Williams has been huge. He's one of those guys that if you need a conversion on third down, he's going to be open. As special and as talented as he is as an athlete, he "He's an even better teammate. Keep him around, I thought that was important for this franchise because he's such a big part of our offense.
"Without him, we're not the same team. It was really good to keep him."
What steps has Williams taken to improve his game and build on last year?
Herbert: "Just being there in terms of timing and having more reps with him in OTAs. It's all optional. He didn't need to be there and for him to commit and be there for the team (it was awesome). I thought we had a lot of time together. We had to work on a lot of reps, a lot of lanes together. I feel more comfortable throwing the ball to him and I hope he feels the same about me.
This is your second year with Brandon Staley and Joe Lombardi (offensive coordinator). How do you feel more comfortable starting this season with this staff knowing what to expect?
Herbert: "The difficult part of last year was that we didn't have a lot of reps. The walkthroughs were great, but there's nothing like a live rep and going up against a team. I thought it was great that we got to do that this year we got to see live defense we got to see our guys on defense like JC Jackson moving around and I thought that was a great opportunity for us to improve.
"All this competition we had, I think it helps. It was much better this year."
How's JC Jackson been since you raised him?
Herbert: "He looks good. He can fly. There's not too much separation between the receivers and him and he's done such a good job of establishing himself as a corner for the last few years. He's definitely picking up where he left off."
Talks of an extension will come to you shortly as you enter your third year. Have the Chargers approached you regarding an extension at this point?
Herbert: "We haven't discussed anything, but I had the chance to play for the Chargers. Whatever happens, happens. I'm so excited to be here and play football. It's been a great opportunity and I don't wish it happened any other way.
"I like the fact that I got drafted here and got to play here. I think we're doing everything right. I believe in the staff, all the teammates, the front office. So, all I can do is hope for the best. It's out of my control, but I will keep playing football."
One of the criticisms that seem to be aimed at you is that you haven't played in a playoff game yet. I know it's not your fault, but how do you handle that adversity and how important is it to you to make the playoffs and establish your own legacy there?
Herbert: "What's great for me is that I don't spend too much time on social media so I don't see all that. It's always a challenge to be better and we haven't won any playoff game in the It's obviously a tough challenge, but I believe in our team and the coaching staff.
"It's up to us to play football and keep executing. At the end of the day, you can't worry too much about all these results because you can't control them. All you can do is give your best and whatever happens, happens."
What aspects of your game are you looking to improve as you approach third year?
Herbert: "A lot of it is footwork. I think I can keep going up in the pocket, feeling pressure and getting the ball out. I think if you can stay calm in the pocket, go through all your reads and find a stopper if if all else fails I think that's the huge role of playing quarterback and (Chargers quarterbacks coach) Shane Day and all the quarterbacks in our room have a lot worked on it.
"And just being comfortable and moving. Small quick movements and being able to get the ball out. I think that was really helpful as well."
From Year 1 to Year 2, what do you think was the biggest gain in your development as a quarterback?
Herbert: "I just think about the experience. Seeing all the defenses and going through the game and realizing how fast the game is really. Everyone in defense is faster than me so I have to protect my body and not take too much hitting and hitting like that. But just being there and seeing him and understanding the defenses more and understanding our offense better. I think that was huge too.
Are the Chargers asking your opinion on roster construction? Do they ask you what you need to improve the list?
Herbert: "The great thing about the Chargers is that they asked. They really want to keep the communication open there, but my answer is, 'I just want to play quarterback and I'll tell you. trust. I know you will handle things. I believe in you guys and whatever you decide to do I know is good.
"I'm not too worried. I don't want to cause any problems between the two. They've done an amazing job. (Managing Director) Tom Telesco and the whole front office, they're doing it right. I believe in these guys 100 %."
You saw the Rams win the Super Bowl at SoFi Stadium this year. The sentiment around town when the Rams won captivated Los Angeles. Are you looking to woo the town with the Chargers and host a Super Bowl like this that can draw the town to your franchise?
Herbert: "That's always the goal, to be the best team possible. For us, that's the end, and one day we hope to get there. It's going to take a lot of work and I think we've done a great job. It's up to the regular season to stay healthy, keep performing, have a great protection plan and play with a good defense – all of those things come into play for that to happen.
I have to ask you about vacations since it came up this week. You don't take a vacation?
Herbert: "I haven't done it yet! The best part about California is you don't really need it. We live in a great city. It's always nice here. I'm going back to Eugene, Oregon ) from time to time, so see my family. , but playing football is my vacation."
Can you tell me what is your latest adventure with Autograph and explain the "The Future Is" collection?
Herbert: "I thought it was a great opportunity because they have so many big names who have been through it and established themselves. Whether it's in football or golf and now they're bringing in this new group of people. It's an honor for me to team up with Collin Morikawa, Devin Booker, and create something that I'm proud of and it's a new way to interact with fans and at the same time create something cool like a collectible card.
What does your NFT trading card look like?
Herbert: "There are a few moments in my career. One is from the Rose Bowl (2020 Game MVP), another from my rookie season (2020) and the last from last year. They are all just a few moments in my life that I felt were important to my career and I think they came out pretty cool.
"I had comments on the moments I wanted and they went pretty well. Those are the ones that kind of jumped out at me when I think back to those games and they were amazing opportunities for me to go out, play football, and have fun. I think that's what they captured.
You need to tell me how it works. Did Tom Brady call you and ask if you wanted to do this?
Herbert: "He did it! This is the second time I've spoken to Tom Brady now. He's an amazing football player and he's had so much success over the last two decades and that's who it all ( quarterback) wants to look like.
"For him to reach out and start this, I thought that was really meaningful to me."
When someone like Brady calls you, what's your reaction? You know the GOAT is on your phone!
Herbert: "You have to answer when he calls (laughs). No matter what time it is, when you see that name pop up, you have to answer it!"