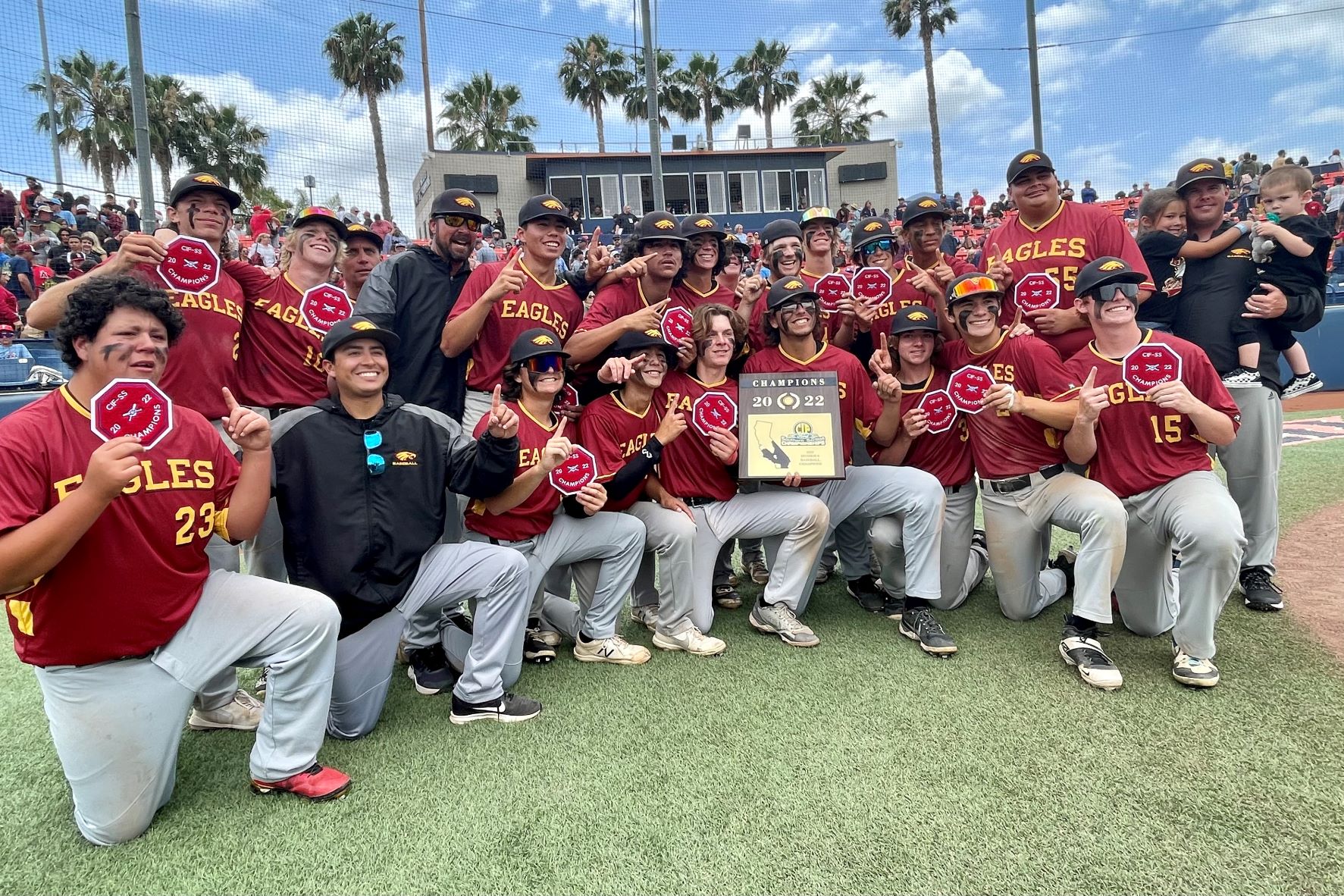 Estancia wins first CIF title with win in 11 rounds; Anaheim Pitcher Makes History, Too
Estancia baseball players celebrate after winning the first CIF title in school history. (Photos: OC Sports Zone, Fernando M. Donado).
The Estancia High School baseball team made history with its first CIF title on Saturday, beating Anaheim 2-1 in 11 innings in the Division 6 championship game at Goodwin Field on the Cal State Fullerton campus. .
Anaheim senior pitcher Jillian Albayati also made history in massive proportions by becoming the first female pitcher to start a CIF baseball championship game. Albayati, looking great out of place on the big stage, pitched the first nine innings, scattering eight hits, allowing one run and striking out two. She was 1 of 5 at the plate and threw a run and moved to first base when her pitching stint was over.
Afterwards, Estancia players praised his efforts on the mound.
Both teams had plenty of chances going forward, but it was second-seeded Estancia who got the go-ahead in the top of the 11th inning on an RBI brace from James De La O, who also picked up the win, pitching 1 2/3 scoreless innings in relief.
"There was relief," Estancia coach Nate Goellrich said after his team's first appearance in the final. "Just the mental grind of that game, we knew there would be rustles, we knew there would be hit-and-runs, we were just trying to think about the other coach and he drove a hell of a game as well. I'm so happy for these kids, everything they went through last year and then the coaching change, for them to have this moment is just amazing.
Anaheim (22-9-1) looked like it could rally late in the 11th.
With one out, Albayati hit a deep volley to center field. Runners in first and second scored through to second and third. But Estancia appealed the game and the umpire ruled the runner on second had gone too soon, ending the game with the third out.
"This win means a lot to everyone," said De La O. "We did it. We went through a lot of changes this summer as coaches and we got the job done.
De La O (3-0) not only took the win, but recorded the game-winning hit with a double down the line to lead Trevor Scott, who singled.
"It was a 3-1 count and I knew it was going to be a fastball in the zone," he said.
Sophomore Andrew Mits started for the Eagles, pitching 6 1/3 innings before reaching his pitch and inning limit. He allowed just two hits, struck out four and walked four. Scott came on to throw three scoreless innings, striking out three and allowing no hits.
Aaron Rojas relieved Albayati in the 10th inning, allowing three hits.
"We were confident she was going over the hill, she and Aaron were both our two horses and with her fighting, we knew we were going to play defense behind her," Anaheim coach Mike said. Barrera. "We had all the faith in the world in her, offensively we just couldn't do enough for her."
"We all fought very hard and the defense behind me was excellent," Albayati added.
Estancia (27-6) took a 1-0 lead with a run in the top of the fifth inning on an RBI single from Jack Moyer, dragging in John Uchytil, who walked.
But Anaheim fought back late in the set. Jesus Mejia walked, Rojas sacrificed him for second and Albayati followed with a single to equalize.
Cole Lefebvre was 2 for 4 and Moyer, Scott and Andrew Coyotzi were 2 for 5 for Estancia, which beat Anaheim, 11-4.
Estancia blocked eight runners and Anaheim 10.
Both teams are heading to the regional CIF tournament in a week.
Check back later for more photos and coverage
—-Tim Burt, OC Sports Zone; [email protected]