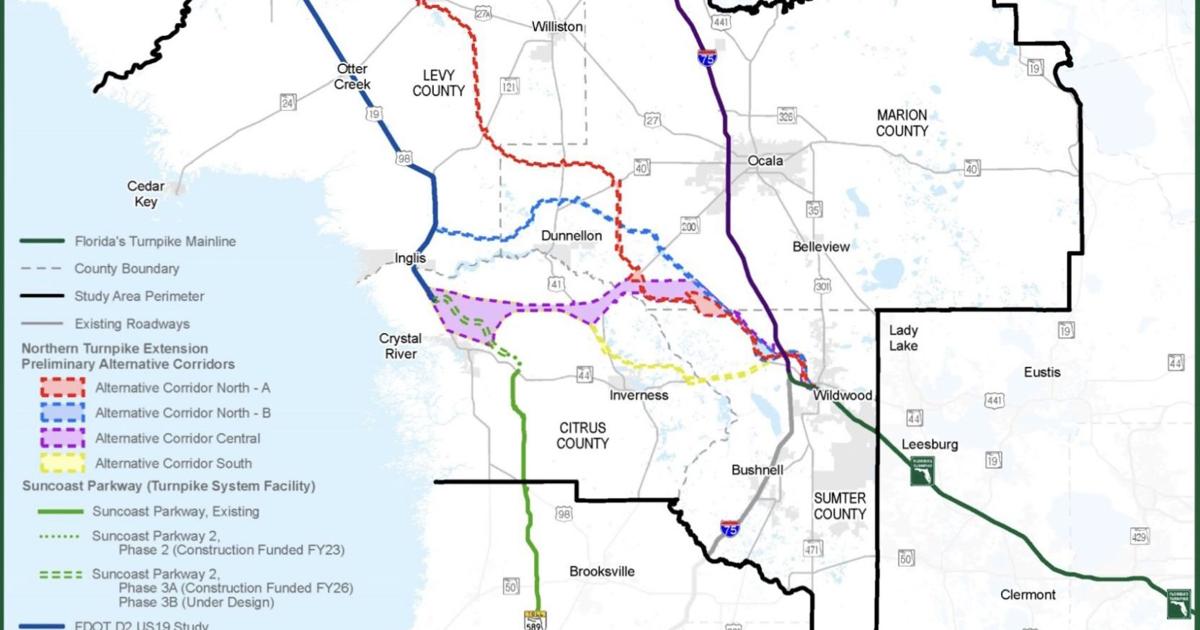 Chambers Seek Common Ground on Tollway Extension | Local News
The Citrus County Chamber of Commerce has partnered with the Ocala and Dunnellon Chambers to ask the state to work with them on a northbound turnpike expansion route that addresses concerns environmental and other commons.
"We seek to be your partners in ensuring that if a toll highway extension is ultimately built, it will be of the most benefit to our communities," reads a letter jointly signed by the three entities.
These concerns are:
● Farmland preservation areas, including the character and culture of farmland and horse farms and other elements "that make our communities unique".
● Existing conservation lands owned by the State of Florida and the Southwest Florida Water Management District.
● Rainbow Springs, karst regions and other environmentally sensitive areas.
● Preservation of wildlife habitats and safe access corridors.
● Existing residential neighborhoods and schools.
● Existing commercial/industrial areas.
● Global and local strategic plans.
"(We have) done much to listen to the concerns of our businesses and residents and have already worked hard to help calm the rhetoric and correct the misinformation that has been circulating," reads the letter, signed by Citrus President and CEO. Chamber, Josh. Wooten and his counterparts at the Dunnellon Chamber & Business Association and the Ocala Metro County Chamber & Economic Partnership.
"By joining forces on this toll highway issue, we believe we can be an asset not only to our communities, but also to (the Florida Department of Transportation (FDOT) in assisting in the accurate dissemination of information" , reads the letter, addressed to Jared Perdue, secretary of the FDOT, and Nicola Liquori, executive director of Florida's Turnpike Enterprise.